BACKGROUND
Part of the Betsi Cadwaladr University Health Board, Ysbyty Gwynedd Hospital in Bangor is a 432-bed general hospital with 12 operating theatres.  The roof of the plant room located above these theatres had reached the end of its service life and was leaking, prompting the need for a fast track refurbishment of the 1000m2 roof area.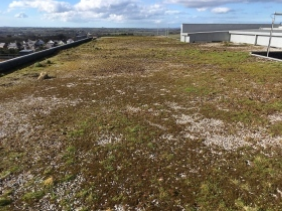 PROJECT REQUIREMENT
While the plant room itself was unoccupied, its close proximity to the live operating theatres, which had to remain operational throughout the works, meant that noise, nuisance odours and disruption needed to be avoided.
The existing roof surface was felt, however, a cold-applied liquid roofing system was considered an appropriate alternative to replace the roof surface in the live hospital environment. The use of Sikalastic 650 (STP) installed using Sika Liquid Plastics' innovative Sika Power Roller application system, provided the ideal combination for minimal disruption and faster installation. The system delivers a controlled flow of liquid membrane onto a roller-head, eliminating any requirement to interrupt application for recoating of the roller.
SIKA LIQUID PLASTICS SOLUTION
Following a site audit and condition survey carried out by Sika Liquid Plastics' area technical manager, Weatherwell Roofing was appointed as the Quality Assured (QA) contractor to carry out the project.
The condition of the existing roof surface was so poor that the roof was stripped back to the steel deck in preparation for the new roofing membrane.
Sika Liquid Plastics' low odour Sikalastic 650 (STP) system was chosen for the project and the Sika Power Roller System was used on the project to speed up the programme still further while ensuring a consistent application rate. Designed to enable application speeds up to 50% faster than manual rollering, the Sika Power Roller offered an ideal solution for the tight programme.
Weatherwell Roofing installed Sika Liquid Plastics' S-Vap 5000 SA self-adhesive vapour control layer directly onto the steel substrate, followed by 25mm Decotherm insulation and a further layer of S-Vap 5000 SA. The Sikalastic 650 (STP) cold-applied liquid system was then installed using the Sika Power Roller in a single wet-on-wet process.
The project was delivered as part of a planned programme of roof upgrade works at the hospital and the Health Board is so pleased with the results that the next phase, comprising the Block H wards, will use the same Sikalastic 650 (STP) system.
"In a live hospital environment, minimising disruption is critical. Applying the Sikalastic 650 (STP) system using the simple-to-operate Sika Power Roller system enabled us to complete the job extremely quickly with consistent quality across the roof" Kristian Lewis, Weatherwell Roofing